Sugar Kiss is the sweetest member of the Kiss family of melons. This melon packs a punch of flavor. The soft meat melts in your mouth, dissolving like sugar on the tongue. An incredible enjoyable eating experience. With a texture reminiscent of a Crenshaw, the Sugar Kiss has unsurpassed flavor.
Product Details:

Size: 6-9 CT
Country of Origin:

United States of America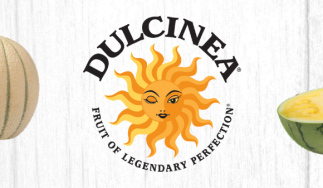 Pacific Trellis Fruit, Dulcinea® Farms' parent company, has been in business since 1999. Since then, they have become one of America's top year-round growers, shippers, and marketers of premium fresh melons, table grapes, cherries, citrus, and stone fruit. They partner with growers...
Learn more about Dulcinea Farms